Finally
, I made it. Phew, its been a very busy time for me but I finally got my team together and what a team they are.Please help me to welcome all our Blossoms to BooLand.
It was very hard to choose from the tons of wonderful applicants, soooooo much harder then I'd expected. I wish I'd been able to take everyone but of course, that just wasn't possible so for those of you who didn't make the team this time round, thank you all so very much for applying and, as my fellow Designer at SAS is always saying, 'Keep shooting for the moon, you may land amoungst the stars' and is there any place better?
Here they are, my...
Booland Blossoms
Help me celebrate....
To help me celebrate the begining of this amazing journey and to welcome my wonderful team of Blossoms I've designed a brand new kit dedicated to them and for the next two weeks, I'm giving it to all of you for free, yup, FREE for the next two weeks but hurry, grab it while you can because after two weeks it goes to store. Check out Boo's Blossoms

This kit has 24 Gorgeous papers in rich colours, textures and beautiful gold filigree as well as over 50 fabulose elements that will bring to life any lo.
Enjoy and thank you all for helping me celebrate this wonderful occasion. Please let the team know how happy we are to have them with us.
Hehehe, come on, you all know I'm a tease right? Did you think I'd make it that easy??? You'll have to read through the post to find the link for this kit. Gotta get my kicks somehow now don't I?! Don't worry, I promise not to make it toooooooo hard, hehehehehe.....

Blinkie Winners
Yeah............. We have our Blinkie Winners. Please give a big round of appluse to Bobbie and Donna for their gorgeous entries.
Bobbie created not one but two FAN Blinkies which I just loved as soon as I saw them. Lucky for me, Elly, who chose the winners, loved them too. You can grab them here.

And Donna made just the most adorable sig Blinkie which I will be sporting in all my sigs from now on. You can grab it here.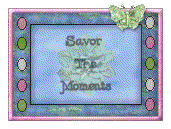 Well done girls. Your coupons are on their way to you as we speak. I hope you both enjoy your prize.
A BIG thank you to everyone that took part. What a lot of talent you guys have.
RAKs

The Blossoms and I will be on the look out for blogs sporting our Blinkies and throwing some RAKs your way so be sure to grab and display your BooLand Blinkies ASAP
Grand Opening at Do It Digi

We are having a Grand opening over at DID with the most amazing gifts and special offers going. All of the Designers will be hosting a special CHAT there too, including me, where you can chat to us, get to know us and hey, who knows, maybe even pick up some extra goodies along the way so be sure to pop on over there and register to be in with a chance of picking up some super dooper treats. I happen to know that there are going to be some rather wonderful Christmas treats in store for you all too so don't delay, get on over there and enjoy the festivities. To register go here.

I'll be bringing you more information on the DID chat as soon as I have them. Wendy is just fine tuning things to accomodate time zones so keep checking back. This is one thing you won't want to miss.
ColourLineDesigns


Woah.... there are soooo many cool things going on over at CLD with a host of utterly fantastic new Designers filling the store with lush goodies, great challenges and check out the Galleries for some amazing talent and inspiration. I'm loving my time with Kellie and the team. They're such a fun bunch of gals and I want to buy all of store, its that yummy. Head on over there and check it out for yourselves. You never know, you might find some treats while your there, hehehe. Be sure to register here to enjoy all the benifits of CLD. Its FREE and takes just a minute to fill in the form, how hard is that folks??
SAS-y Designer Contest
Now you all know I love my SAS-y gals. I've been with SAS and Julie since the begining, in fact, from its conception, lol, and I love how its growing and developing. It really is a great place to hang your hat.
Right now, we are in the middle of an amazing Designer Contest and its just floored me the level of quality, artistry and dedication these new Designer Hopefuls have shown. You can check out round three of the contest here and to download all of the FREE kits, just pop along and register here. Its that simple. Be sure to vote for your favourite designs and soon, very soon, we should have 4 new Designers join our happy family.
Don't forget to check out our SAS-y Designers Blogs. As usual, the SAS-y Girls have got some awesome treats for you.
Let's spread some Christmas Love
Remember Miracle on 34th Street?

Now, I usually have too much to do to be able to sing the praises of Designers who are not from the forums I'm in but I have to shout about this lady (yes Kim, I use the term 'Lady with reserve, lol)
KimB of DSO

Why am I shouting about Kim? Well, even though she supports South Africas Rugby team and they beat us in the final I forgive her for this transgression because I LOVE this lady's talent and more importantly, her enthusiasm. She positively BEAMS fun and laughter and thats something to shout about, wouldn't you agree? Nothing ever seems to phase Kim. She's always so chipper and cheeky in the nicest way that its a joy to visit her blog and DSO for her Colour Challenge, which as you guys know, I love doing. So, KIM, thank you for being an inspiration to me. Keep smiling and making us laugh. You make the world a brighter place.
Ok, she'll be going mad now that I've gushed, hehehe but I think just because we are not on the same team doesn't mean we can't appreciate anothers talent and the fun they bring to the community.
Kim's just released her December Grab Bag which you can check out here. I'm not going to tell you whats in it but lets just say, I have it and its FANTASTIC so go grab it while its on sale.
My Blossoms show it off...
Now, before I go, what do you mean, thank goodness? I say, the audacity....lol. I want to share with you some of the fantastic lo's my Blossoms have created for me using my Winter Moon Kit which you can get over at SAS, CLD and DID. A little secret for ya'll. DID are soon to be having a GRAND OPENING SALE so keep that in mind, wink wink......
Diane, Claudette and Christina
Amy, Aldercreek and Sharpli
Petra, Pam and Lois
Erika and Lea
Just a small selection of the awesome talent these girls have.
That's all for now folks. Be sure to come back soon for tons more goodies.
Oh..............OK, you can grab the Blossoms kit
here
, (
Sorry Folks, you missed it this time but you can grab it at my stores for a real cool price
)hehehe. Password is
mygirls
Have fun and be sure to grab
all
of the zips. It wasn't that hard was it, lol.
Big hugs
Boo and the Blossoms xxx