It's Heather's (aka 'PhreePhorm') Birthday today and this little lady has been working her butt off getting our fantastic SAS-y Halloween Party organised. Big hand to her, she did a fantastic job.
Hope you have a spooktacular Birthday hun, you deserve it. Big hugs. xx

Credits ~ Lisa West 'Adelaide' & 'Frightful Fun' Kits ~ Special Thanks to Atomic Cupcake and Monica Larson
Yayyyyyyyyyy it's gonna be a

SAS-y SCARY

Halloween folks. I can feel it in me bones.........

A little apology for the absence of part 4 of my Moments collection this week. That's because I get to host

Lisa West's

fantastic

Halloween Grab Bag

for

SAS

as Lisa is off doing much more important things, like having her baby, hehe.

Don't worry

though my little scrapsters. Would I send you away empty handed??? The only thing is...... which bag is my

treat and which is the trick???

Ah well, guess you'll just have to find out for yourselves and take a chance. Click on the bags for something

totally wicked

and then go grab Lisa's amazing goody bag. Shhhhh, can I tell you a

secret

?..... This bag has some

LUSH

stuff including something for

'commercial use'

. How fantastic is that.... hey, but you didn't hear it from me right

;)
Boo's Treat here
Sorry, Its gone
Lisa West Designs SAS-y Halloween

Yayyyyyyyyy, you found

Lisa Wests Secret Grab Bag

which I'm thrilled to be able to host for you tonight. Click on the bag and

grab your goodies

and then

knock at the door

and see where it's magic takes ya..... whats up....? Too

scardy pants

.....? Beware though, I heard there are

gremlins and ghosties

about tonight just waiting to steal your goodies......

eeeeekkkkkkkkkkkkk

.............................

Knock Three times if you wanna see who's next....
Don't forget to leave some love when you download. Mwahhhhhhhh x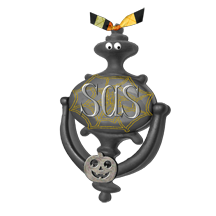 Here's a wonderful link for those of you who have thought about having a go at doing this fatastic hobby but didn't know quite where to begin. Gina over at Pieces and Pixels writes some great tuts as well as offering some lovely goodies. Pop on over there now and start as you mean to go on, but I warn you, it's highly addictive...... lol. (Links in the title, click and go)
Be sure to come back
Friday
for the final part of 'Moments' and then, its on to something completely new......Before we go though, i wanted to share this fabulous lo I found over at GDS. It's by Sexy-Eyes and she has very kindly given me permission to share it with all my little scapsters. Do check out her
Gallery
if you get a chance and leave her some love.
Have a wonderful and safe halloween folks. Don't have nightmares, do sleep well. Goodnight.
Boo x